Hi there! Welcome back to Friday Favorites Volume 9! Friday Favorites is a place to share with you all my favorite finds of the week, including what I've been reading, watching, and listening to!
I'm so excited to let you all know that this week I launched the datagy YouTube Channel!
You can check it out by visiting this link! I'd be so happy if you subscribed.
Data Science Articles – Friday Favorites
How to Read Word Documents with Python – This is one of those fascinating posts that gives you an overview of how to read another unstructured data format – the Word document. There's a number of libraries in Python available for this, and this article covers docx2python.
Pickling Objects in Python – Pickling objects allows you to serialize your data. It allows you to store data as it's manipulated and this guide takes you through a high-level process of how it's done! Be sure to check it out as it prepares you to deal with larger and larger data sets.
Check out some other Python tutorials on datagy, including our complete guide to styling Pandas and our comprehensive overview of Pivot Tables in Pandas!
Other Links I Liked – Friday Favorites
Building the Perfect Squirrel-Proof Bird Feeder – A mechanical engineering approach to prevent squirrels from stealing bird-feeder food! And to think, a whole video dedicated to it!
Your Free Tips and Tricks eBook is Waiting!
Sign up for my mailing and receive your FREE guide to 31 tips for Pandas!
Make a Habit of It – A gentle reminder that our habits take time to developing and a really interesting approach to how to build better habits. This is a novel idea to keep track of your small habits and watch them compound into lifestyle changes!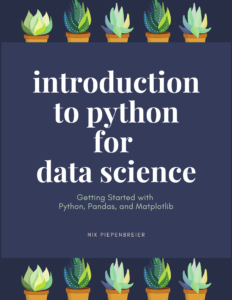 Want to learn Python for Data Science? Check out my ebook!