Hi there! Welcome back to Friday Favorites Volume 8! Friday Favorites is a place to share with you all my favorite finds of the week, including what I've been reading, watching, and listening to!
Data Science Articles – Friday Favorites
sidetable – Create Summary Tables in Pandas – I tweeted about this earlier in the week and I want to feature it again here in case anyone missed it. Chris Moffitt runs Practical Business Python, which is by far one of my top blogs to follow for Python-related material. He has an incredibly approachable style of writing that really resonates with me (and judging by the comments, many others). In this post, he covers off his new Pandas extension, as well as how to build your own! It's really, really inspirational stuff!
Check out some other Python tutorials on datagy, including our complete guide to styling Pandas and our comprehensive overview of Pivot Tables in Pandas!
2020 Stackoverflow Survey Results – The annual Stackoverflow survey is a great tool that provides much insight into the current atmosphere of developers, in terms of experience, languages, income, gender, etc. I recently wrote an article on Towards Data Science that covers off previous years' results, with an extra shout out to Python to get everyone excited.
Your Free Tips and Tricks eBook is Waiting!
Sign up for my mailing and receive your FREE guide to 31 tips for Pandas!
Other Links I Liked – Friday Favorites
Tiny Animals on Fingers – Yup, this is exactly what it sounds like – tiny animals, but on fingers! That's how adorably tiny they are. If you're in need of something uplifting this week, let this be that and check out some cuteness.
Zoom Free Calls Aren't End-to-End Encrypted – Zoom has come under pressure in the past around its privacy practices. But they've also responded openly and appropriately to address them. Be aware of the fact that your calls aren't end-to-end encrypted unless you pay. But the transparency and heads up definitely helps.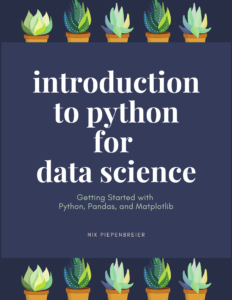 Want to learn Python for Data Science? Check out my ebook for as little as $10!