Hi there! Welcome back to Friday Favorites Volume 7! Friday Favorites is a place to share with you all my favorite finds of the week, including what I've been reading, watching, and listening to!
Data Science Articles – Friday Favorites
Creating and Modifying PDF Files in Python by David Amos – Working with PDFs can be a huge pain! Thankfully Python comes to the rescue. In an in-depth as-ever tutorial by Real Python walks you through critical tasks like extracting text, extracting pages, merging, rotating and more!
The Average Happiness of Twitter Users – This is an interesting look at the sentiment of Twitter users over time, with important events mapped in. It was fun to play round with and see which events may have triggered different moods.
Check out some other Python tutorials on datagy, including our complete guide to styling Pandas and our comprehensive overview of Pivot Tables in Pandas!
Top 10 Python Tools To Make A Developer's Life Easier by Swaathi Kakarla – This is a fun list of different tools to help make your life easier. Swaathi includes some sample code highlight how to get started or what can be done with each tool, making it that much easier to get started using these tools.
Your Free Tips and Tricks eBook is Waiting!
Sign up for my mailing and receive your FREE guide to 31 tips for Pandas!
Other Links I Liked – Friday Favorites
The Sealed Garden That Was Only Watered Once in 53 Years – Ok, I'm a bit of a plant nerd and this is really cool too see. A man has kept an entire system of plants in a bottle for over 53 (!!) years and only watered it once. Plants are really, really cool.
No, You Didn't Just Lose Half Of Your Retirement Savings by Mr. Money Moustache – This guide (over a month old now) is a good reminder that markets go crazy and how to stay calm in them. If you have money invested, I'm confident the COVID crisis has had an impact on your mental health around your investments. MMM also provides a number of other helpful resources to keep you calm during these tumultuous times around your money.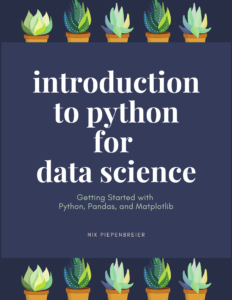 Check my eBook – An Introduction to Python for Data Science!