Hi there! Welcome back to Friday Favorites Volume 6! Friday Favorites is a place to share with you all my favorite finds of the week, including what I've been reading, watching, and listening to!
Data Science Articles – Friday Favorites
6 Alternatives to the Yahoo Finance API – This article by John DeCleene covers off some great API alternatives to the Yahoo Finance API. John provides a good overview of each API, its coverage, and limitations.
Parse Data from PDFs with Tabula and Pandas – Graham Beckley provides a solid overview of parsing table information from PDFs. This is incredibly helpful when you're handed stacks and stacks of PDFs with information that you otherwise need to find another way to extract. Check out Graham's Github.
Check out some other Python tutorials on datagy, including our complete guide to styling Pandas and our comprehensive overview of Pivot Tables in Pandas!
Data viz experts explain COVID-19 graphs – Two data visualization experts were brought in to explain how to interpret COVID-19 graphs. This is incredibly important in today's world, where we're bombarded with COVID-19 information every time we open the internet. A lot of these graphs can skew data or represent data that isn't easily understandable by people that are epidemiologists.
To download the full guide in a beautiful PDF, a SQL Cheat Sheet, and a database file to play along with, click here!
Other Links I Liked – Friday Favorites
Coffee Cake – Basics with Babish – In a world of everyone baking sourdough, give baking coffee cake a try! Babish has incredible video tutorials that never fail to impress.
The Real Fake Cameras Of Toy Story 4 – Learn all about how Pixar uses "fake" cameras within their movies.
Why You Should Take Naps for Better Health & Creativity – Now that many of us are working from home, separating work and home life can be difficult. Maybe a good nap would help boost your productivity and creativity?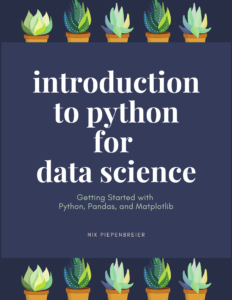 Want to learn Python for Data Science? Check out my ebook!