Hi there! Welcome back to Friday Favorites Volume 5! Friday Favorites is a place to share with you all my favorite finds of the week, including what I've been reading, watching, and listening to!
Data Science Articles – Friday Favorites
20 Tips for Learning to Code in 2020 – This article by Jessica Shepherd is a great motivator for those looking to get started with coding this year! These tips really resonate with me when reflecting back on my own journey! Follow her on Twitter, @javascript_jess! I have found these types of lists to be a good thing to use to check myself in my own professional growth to make sure that I am learning in the most effective ways.
How to Think Like a Data Scientist or Data Analyst – This is a wonderful guide by Jo Stichbury to get your frame of mind right for data science and data analysis. There's so much misconception about these roles that this is a great guide to ground yourself!
To download the full guide in a beautiful PDF, a SQL Cheat Sheet, and a database file to play along with, click here!
Other Links I Liked – Friday Favorites
Things I'd Tell Myself at 18 That I Now Know at 26 – Zach is one of those writers that I look up to in his journey to make a shift to full-time online work. While I'm not 26 anymore (!), this guide does resonate with me!
Check out some other Python tutorials on datagy, including our complete guide to styling Pandas and our comprehensive overview of Pivot Tables in Pandas!
A Quarantine Birthday Deserves a Very Special Cake – This is a great post! Birthdays are so strange during our COVID-times, but they're no less special. I feel like one of the wonderful things about all this craziness is how much it's brought my international family together with frequent video chats – and birthdays have been a part of that! It doesn't hurt that this cake looks delicious!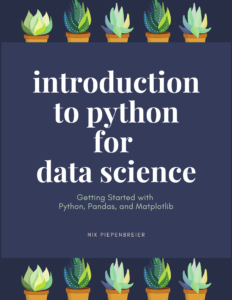 Want to learn Python for Data Science? Check out my ebook for as little as $10!