Hi there! Welcome back to Friday Favorites Volume 4! Friday Favorites is a place to share with you all my favorite finds of the week, including what I've been reading, watching, and listening to!
Data Science Articles – Friday Favorites
Andrew Cuomo's PowerPoints are endearingly primitive, so this designer redid them – This is an incredible remake of COVID-19 PowerPoint slides from New York. Be sure to check out the full slides here, and be sure to follow @_deardata too, to see more of their great data visualizations.
Why you're not a job-ready data scientist (yet) – A great article that outlines a lot of the pieces that all data scientists need to succeed at their job and why you need them! Jeremie Harris has other fantastic articles, I'd recommend checking out. His Medium profile can be found here.
Power BI Tutorial From Beginner to Pro – A great tutorial by Avi Singh on getting started with Power BI. Dashboarding has become a critical skill for many data analysts and Avi makes the whole process quite straightforward and fun! Be sure to follow Avi Singh's Youtube channel, which you can find here.
To download the full guide in a beautiful PDF, a SQL Cheat Sheet, and a database file to play along with, click here!
Check out some other Python tutorials on datagy, including our complete guide to styling Pandas and our comprehensive overview of Pivot Tables in Pandas!
Other Links I Liked – Friday Favorites
Stroll through the Japanese Garden in Bloom (Video) – Take a relaxing (18 minute!!) walk through a Japanese garden in full bloom. Toronto's High Park is closed this year and seeing the Cherry blossoms has always been a highlight of the year. This works well as a replacement!
Re-imagining Where's Waldo in Times of Social Distancing – This is just great! It's a fun look at what the world kind of looks like the right now. It's a fun re-imagining of a classic that's perfect to look at right.
Are you enjoying our content? Consider following us on social media! Follow us on LinkedIn, Twitter, or Instagram!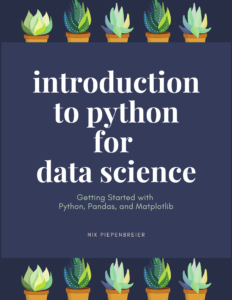 Want to learn Python for Data Science? Check out my ebook for as little as $10!