Hi there! Welcome back to Friday Favorites Volume 2! Favorite Fridays is a place to share with you all my favorite finds of the week, including what I've been reading, watching, and listening to!
Data Science Articles – Friday Favorites
The AI Hierarchy of Needs – Monica Rogati wrote this approachable, insightful article nearly three years ago and it feels like it hasn't aged one bit. It lays out a helpful guide to the different stages of data work. I highly recommend checking it out, or re-reading it if you've already read it.
How to Add Dotted Lines to Line Graphs in Microsoft Excel – A step-by-step guide to add flair to your graphs to better show placeholder data. Ann has been a constant inspiration for my data visualization work over the years.
Google Scholar Parsed a Cafeteria Menu as an Author List – This is just hilarious! I wish I had run into this during my university Google Scholar reading.
Check out our Python tutorials on datagy, including our Guide to Styling Pandas Dataframes and Everything you Need to Know about Python Pivot Tables!
Other Links I Liked – Friday Favorites
Scientists discover a new snake and name it after Salazar Slytherin – This feels like the perfect article to read during COVID-19 for a Harry Potter fan. My favorite line in the article is: Unfortunately, a spokesperson for Slytherin was not available for comment. That's quality journalism!
Colorado Topography – A neat and pretty way to layout the topography of Colorado using lines and colors! Definitely a cool way and something I hope to see replicated for other areas of the world!
Are you enjoying our content? Consider following us on social media! Follow us on LinkedIn, Twitter, or Instagram!
Videos I Enjoyed – Friday Favorites
Explaining the Pandemic to My Past Self – Julie Knolke is one of my favorite Canadian Youtubers, who constantly puts out original content.
Did we Mention we Have an eBook?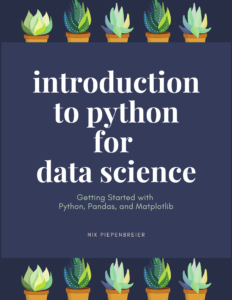 Want to learn Python for Data Science? Check out my ebook for as little as $10!